FYI- Feed Your Ipod
is a new feature here at
Thoughts of Trent
. This is a short list of songs that you should consider purchasing to make your Ipod more well rounded.
Random Purchase Recommendation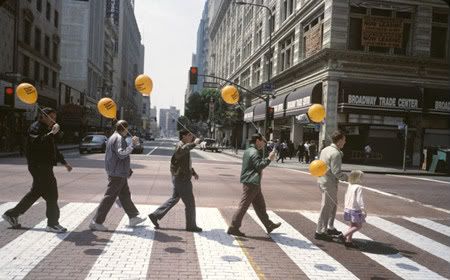 A little reference to Abbey Road and a reminder that everyone loves balloons!
This last few weeks of American Idol has reminded me of my love for the Beatles. I am still frustrated as my Beatles Collection is limited to 4 albums. With a band as talented as the Beatles, 4 albums is nowhere near enough. So after listening to their albums a few times I came across a little gem that I had forgotten. A few years back Sean Penn starred in a movie about a mentally challenged man who raised a baby with the sounds of the Fab 4. No matter what you felt about the film the soundtrack was original.
All covers of Beatles songs, this CD has some tracks that I dare to say are better than the originals. The album has continuity in its tone which is rare considering the diversity in Beatles styles. Artists I love really do these great songs justice. Even if you aren't a fan, you will find this CD satisfying. My hope that it will be a Gateway for some people that haven't fully appreciated the greatest rock 'n roll band so far.
So, buy the whole CD, it is worth it. If you don't believe me, buy the following songs in the provided order off itunes. My feeling is that you will buy the remainder of the album within a month.
1. You've got to hide your light away, Eddie Vedder
2. Blackbird, Sarah McLachlan
3. Across the Universe, Rufus Wainwright
4. Two of Us, Aimee Mann & Michael Penn
5. Golden Slumbers, Ben Folds
This is great chill, foggy morning music. Enjoy it.