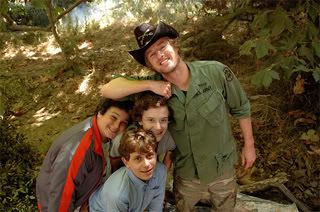 Awwww…aren't they cute? No, no their not.
I like the movies and sometimes this leads me to see movies that are not worth my time. As I sat through this horrible film I felt at least some sense of pride in the fact that I can save my friends the agony. Taking the cinematic bullet for the team. This movie is just lame. It really is of the caliber of a direct to video American Pie movie without the nudity and innuendos.
The kids in this film are annoying, especially the little one. This little troll is the worst over actor I've seen since I saw a home-school drama club production of Fiddler on the Roof. There must be better teen actors in Hollywood. After seeing this film I worry for Judd Apatow, how could he attach his name to this? I know that a producer credit is often thrown around as a way to legitimize a film, but this could be detrimental for Apatow. And Seth Rogan is listed as a writer? I hope that by writer they mean he came up with the original concept and farmed it out. If he was intimately involved in creating the generic crap that covered the pages of this script then it makes me think he won't last.
So, with this movie being placed in the low category of "barely meets USA network" standards. Please consider this a favor from you're friend Trent; there is no reason to see this movie.